Welcome to
Wichita Falls Orthodontics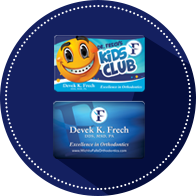 Dr. Devek K. Frech and our staff are here to provide you with the best orthodontic care in order to bring you the radiant, healthy smile you deserve! Our professional team is known for our excellence and friendly, warm attitude toward each and every patient, to help you feel at home and at ease. With a dedication to service for children, teens, and adults, we offer families throughout the Wichita Falls, Burkburnett, and Lawton, TX communities the highest quality of treatment in a caring environment.
Along with our open reception and clinic areas, we provide private rooms for treatment. We are constantly on the leading edge of new techniques in orthodontics. Some of the services we offer include:
We make it a point to explain all the treatment beforehand so you know what you can expect before, during, and after your care. We also make sure you understand how to maintain your healthy smile so you can enjoy it for a lifetime.
Because we know you have a busy life, we have arranged special practice hours to accommodate you at 7:30 a.m. on Mondays, in addition to our regular appointment slots. Make an appointment at our Wichita Falls orthodontic office for your complimentary consultation, and find out what a difference a healthy smile can make in your life.