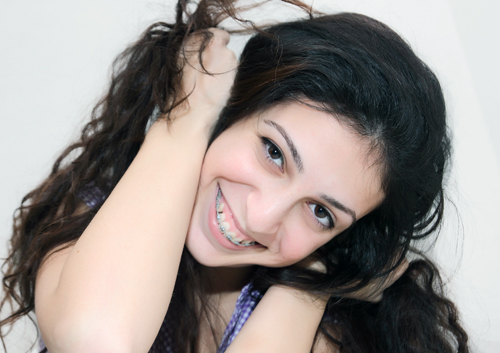 Although teeth seem to be solidly fixed in their sockets (at least they don't wobble when we chew!), all teeth can easily be moved if Dr. Frech and our staff attach brackets and wires to them called braces. In the past, all braces were made of stainless steel, but today's advanced dental technology gives people the option of wearing transparent, acrylic mouth trays called Invisalign®, or relying on traditional metal braces for correcting malocclusions.
Brackets, Slots, and Arch Wires – Oh My!
When light pressure is consistently exerted on teeth, they will gradually move in the direction of the force. For example, affixing brackets to front teeth and threading a flexible, metal wire through tiny slots on the front of the brackets allows the orthodontist to tighten this arch wire enough to initiate desired movement of teeth. Generally, orthodontic patients visit Wichita Falls Orthodontics once a month to have this wire tightened to keep teeth moving in the desired direction.
Tissues surrounding the teeth that experience pressure from arch wires will slowly (and, for the most part, painlessly) stretch, and allow the socket to enlarge so the tooth and its root become looser temporarily. This allows the root to move without causing bleeding or pain. Once Dr. Frech and our staff are satisfied with the repositioning of teeth, we will remove the braces and let bone material fill in the socket so that teeth are solidified into their new (and straighter) positions.
Clear Braces vs. Traditional Braces
Both types of orthodontic corrective devices move teeth in the same manner: by applying a continual force against teeth. Clear aligners, like Invisalign, are mouth trays made of hard acrylic material that people wear for at least 23 hours a day. Unlike metal braces, Invisalign can be removed for eating and brushing purposes and the aligners are nearly invisible because of their transparency.
Invisalign aligners are usually reserved for people with gaps between their teeth or whose teeth are only slightly crooked. Traditional metal braces are often necessary when severe malocclusion exists and requires more pressure than Invisalign offers.